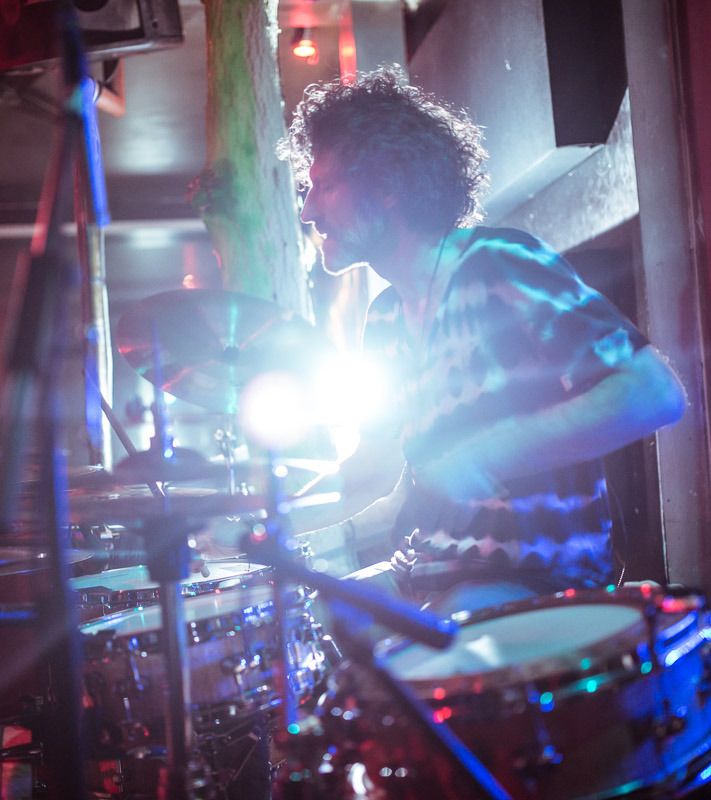 NERVE evolved out of Jojo Mayer's legendary party event Prohibited Beatz in NYC during the late 90′s. Initially a platform for experimental interaction between DJ's, visual artists, musicians and the audience, the collective eventually developed into a fine tuned group that cross-pollinated the premeditated format of programmed electronic music styles with real time, improvised music performance. Within that format, the band assimilated a wide spectrum of electronic styles from old school Jungle, Dub Step and Glitch beats to Minimal and Tech House and anything that could escape the confines of genre. In the process, the group managed to acquaint a new audience with improvised music for the first time and ultimately bring the Jazz tradition of improvisation, innovation, driving rhythms and stylistic evolution to the digital age.
NERVE re-examines and transcends the relationship between human creativity and digital technology and has created a new form of musical expression which is completely unique in the world today. The aim is authentic 21st century music.
NERVE sounds like electronic music, but it's not. It doesn't sound like jazz or rock, but it is.
NERVE's basic trio set up  of Drums Bass and Keyboards is consistently accompanied by their own live sound engineer.
The current line up of NERVE consists of:
JOJO MAYER, Drums
Swiss born Jojo Mayer started playing drums at an early age and had his first public performance at 2 sitting in with his dad's band.
At age 18 he received his first international exposure when touring with Monty Alexander and backing up Jazz legends such as Dizzy Gillespie and Nina Simone.
In the early 90's he moved from Europe to NYC where he worked as a first call sideman for a wide range of artists and styles.
As a leader he created his seminal work with NERVE which established him as one of the great performers and innovators on the instrument. His concepts and techniques of reverse engineering electronic drumbeats in real time on a acoustic drum set introduced a new paradigm and opened the door for an entire generation of musicians to follow.
In 2014 Modern Drummer Magazines listed him as one of the 50 Greatest Drummers of All Time.
JOHN DAVIS, Bass & Low End Manipulation
Jojo's partner in crime and counterpart in NERVE, John is the foremost proponent of synthesized electric bass culture today.
With his experience as a multi-faceted bass player and vast technical expertise as one of New York's busiest recording and mixing engineers, John has developed the extraordinary facility to emulate almost any sequenced synth bass line from his bass guitar and pedalboard in realtime.
JACOB BERGSON, Keys & Synths
Jacob initially started to work with NERVE as a recording engineer for the "The Distance between Zero and One"sessions  in 2010 .Recently, he also started to lend his talents as a keyboardist and producer to the group. His broad stylistic experience in Jazz, electronic and pop music and his skills with synthesis make him not only a perfect collaborator for NERVE but for  a wide range of contemporary artists including Rubblebucket, Luke Temple (of Here We Go Magic), Diiv, Moon Hooch, and Janka Nabay.
AARON NEVEZIE, Sound and Realtime Audio Deconstruction
Stepping up into NERVE's proprietary Real Time Audio Deconstruction concept Aaron interacts with and manipulates the band's sonic output during live performances, turning the sound desk into a musical instrument by supplying many of the textures usually created in post production in real time. Co-owner of The Bunker Studio, he brings years of studio-honed engineering skills and techniques to the band, stretching the boundaries of live sound and concert experience.
ABOUT
was last modified:
April 26th, 2015
by